I love it when my brain solves creative problems while I am sleeping. Often, I get ideas right as I am falling asleep or as I am waking. I read that Thomas Edison used to take a nap while holding a spoon over a pie tin. As he fell asleep, his hand relaxed, the spoon dropped in the tin, waking him up, so he could pay attention to the ideas flowing through his head.
I just received this box of costume jewelry from my favorite Aunt. She is in the process of unloading clutter. Most of it is outdated-lots of huge 80's earrings. They weigh a ton. They must drag your earlobes down to your shoulders when you wear them. Not being much into torture in the name of fashion, I'm afraid to try them on! OUCH! I have been wondering what to do with it all. I can see deconstructing alot of it and using it as trim on tassels, or on greeting cards. How about something really outrageous, like a breastplate, formed over my body with plaster casting material, then embellished with jewels! I'm having a hard time deciding which jewels should cover the nipples.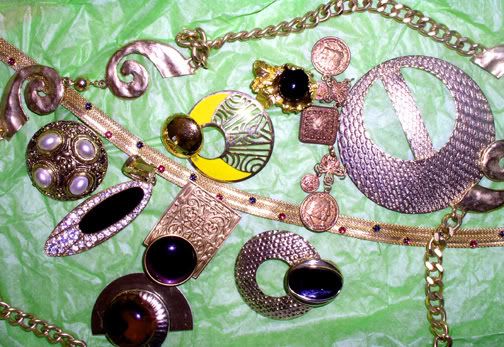 AHEM....where was I!
Oh,yes,.... as I was waking this morning, I remembered this garage sale find.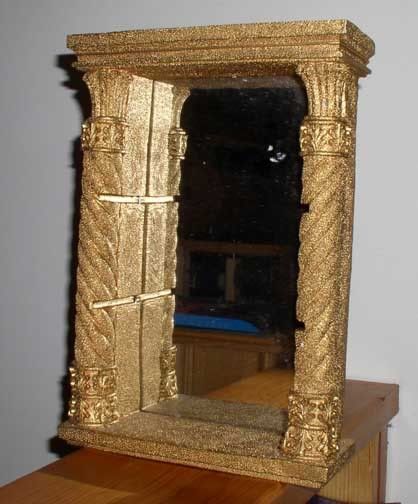 I am intrigued by images of shrines, and gates, and portals, and open doors. I always wonder what is on the other side. I have wanted to make a shrine or portal with this "find" since I first laid eyes on it. I now have the materials necessary!
I do have to ask myself, though, about absorbing all of this jewlry into The Endless Stash. Aren't I supposed to be reducing the ES?