And have been for a week. Between exhaustion from travel, getting started in my new job (yay, I got the sewing teacher job!!), and catching up on 2 weeks of weeding, mowing and laundry, there has been little time for other things.
I spent a week in Munising, Michigan, my home town, seeing family and friends. I haven't been back in almost 13 years. That was for my Dad's funeral, in January, in a blizzard, so I didn't see many people then. Before that, it was 1989, my brother's wedding. The most striking thing for me, was how small things are compared to my memory of them. My brother lives in the house we grew up in, so I got to stay in my childhood bedroom. It was MUCH smaller than I remember! It was fun to see old classmates and aunts and uncles and cousins. I even had a "date" with my high school boyfriend!
Munising is the gateway to Pictured Rocks National Lakeshore, and the scenery is magnificent. My brother took me out in his new boat for a tour around Grand Island. The landscape is pressed deeply into my memory, but this time I was looking at it as a textile artist. Inspiration was everywhere. Here are a few of the many pictures I took:
This is a view of the west side of Grand Island. The sandstone cliffs are eroding and providing sand for new beaches, recycling on a grand scale of millions of years. The red sand is lighter than the tan, so when it washes up on the beaches it gets thrown high, in bands on top of the tan. Beautiful!
Here's a closeup of the banding in the rock: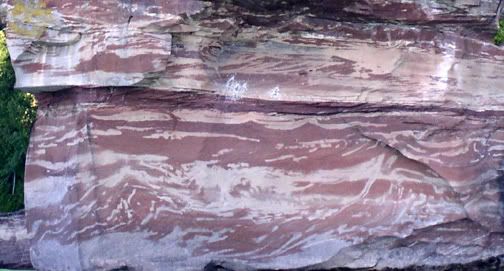 I can see dyeing these colors, or shibori.....
This is a formation on the east side of Grand Island. It reminded me of a petroglyph, but is natural coloration, and is huge. Those are full size trees and shrubs around it.
Here's a closeup:
I can see some kind of sea monster, fish, turtle, or even just a bold design, either for carving in a vinyl block, or as a silk screen.....