No weaving or dyeing is happening. Instead, I have been gardening. We have had a prolonged wet, cool spring, but the last few days have been lovely! I am at least a month behind in planting the cool weather crops like peas, carrots, and lettuce. My usual date for planting those is April 10th. There was still 6 inches of snow covering the beds then. It may be too late and may be too hot before it's all ready to harvest. I planted anyway.
Seeds in the ground: lettuce, spinach (will probably bolt before it gets big enough to eat), mesclun mix, broccoli, peas, 3 varieties of potatoes, carrots, and onion sets. We seldom have a long enough summer to grow tomatoes in the garden, but I have 6 plants in five-gallon buckets. I still have corn, beans and annual flowers to put in.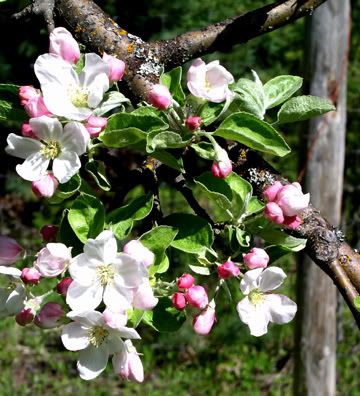 Our garden fruit trees and the wild fruit trees are all in bloom. The scent in the air is heavenly!
We are eating the first vegetables from our garden- asparagus and rhubarb. Dinner was wild Alaskan salmon grilled on a cedar plank, basmati rice, asparagus picked 10 minutes before dinner, and rhubarb pie. It's a good life!
I have also been busy mixing sugar water for the hummingbirds. The first babies have fledged, and we have at least two dozen birds at the feeders at any given moment. They're guzzling a gallon of sugar water a day! There are 3 species in the picture: Calliope, Black Chinned and Rufous. They're like flying jewels. Soon the wild honeysuckle will start blooming, and nary a bird will be at the feeder for at least a month.