The US Post Office makes the First Day Cover postmark for each new stamp available for 60 days after the day of issue. You can send an envelope with the stamp to the issuing post office and they will put the special postmark on it. It's much more fun to decorate your envelope with the theme of the stamp to go along with the special postmark. Supposedly, the FDC postmark is more valuable to stamp collectors.
I belong to several stamp carving Yahoo Groups:
Carving Consortium
,
Erasercuts
, and
Erasercut Exchange
.
I have participated in many FDC swaps with the folks on these lists. We decorate envelopes using art that includes at least one handcarved rubber stamp, and the theme of the postage stamp.
Here is the soft block print I carved for the Louis Comfort Tiffany FDC swap last summer: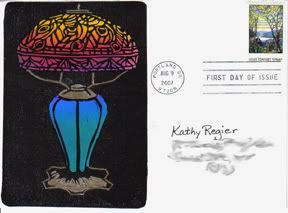 I love doing these swaps. 2007 postage stamps were gorgeous, and I did several carvings for different issues. Unfortunately, the stamps for 2008 don't inspire me at all.