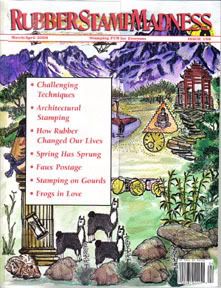 My first piece of art in a national magazine! woo! hoo!
It's a handcarved block print of Princess Leia and Queen Amidala that I did for a Star Wars First Day Cover swap. It's printed in the March/April 2008 issue of RubberStampMadness.
Here's a shot of the print.
I love to do First Day Cover envelope art. The Post Office describes First Day Covers as: "First Day Covers (FDCs) are envelopes bearing new stamps postmarked on the first day of sale. For each new issuance, the U.S. Postal Service generally selects one location, usually related to the stamp subject, as the place for the first day dedication ceremony and the first day postmark."
I'll talk more about it in my next post.